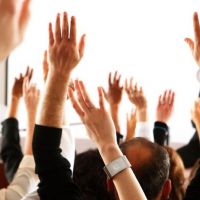 As a result of the Coronavirus (COVID-19) pandemic, Cochrane will be working on a number of rapid reviews of evidence in the weeks and months ahead. You can read more about how Cochrane is responding to the pandemic here. We want to make it possible for review teams and consumers to collaborate in the time available for completing a rapid review.
In order to do this, we would like to recruit consumers to be a part of a COVID-19 consumer rapid response group. We are particularly looking for healthcare consumers who have experience of helping with Cochrane or other systematic reviews, and who fit into one or more of the following groups:-
People at high risk of COVID-19 infection (e.g. such as immunosuppressed, people living in high risk areas, people working with sick persons)
People who are ill or have recovered from COVID-19
People who have experience caring for someone with COVID-19 as an informal caregiver
Family members and/or co-habitants of people who have experienced COVID-19
People with lived experience of other conditions (e.g. mental health, cancer) that are influenced by COVID-19
People who do not have direct lived experience related to COVID-19 but are interested in contributing to reviews and guidelines
Experienced consumers who could support new consumers Members of the group will need to respond to reviews at very short notice, sometimes in a matter of hours.
Members will be offered access to learning, support, and other resources where needed, so that they are ready to contribute to these rapid reviews. We will continuously evaluate the initiative, implementing changes as needed in response to feedback from consumers and review teams.
If you think you may be able to help, would you please let us know that you are interested by:-
(i) completing the details in this online form.
AND
(ii) registering as a member of the Cochrane Consumer Network and joining our mailing list so that we can keep in touch with you, if you haven't already done so. You can do this here.
We will respond to your enquiry as soon as possible. If you have urgent questions please contact consumers@cochrane.org
Thank you. 
Read more about this work in this report for the Cochrane Library. 
Cochrane thanks members of the consumer rapid response task group for their considerable work in developing the process and resources that enabled this work to proceed.
Cochrane also thanks the members of the COVID-19 consumer rapid response group who have already signed up from the following locations.