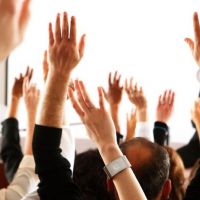 Cochrane launches a new framework for consumer engagement  and involvement to 2027
Cochrane has a bold new framework for consumer (patient, carer, and public) engagement and involvement. Richard Morley, Cochrane's Consumer Engagement Officer introduces it here.
Engagement and involvement in health research is a growing global movement. Involving stakeholders makes research more relevant and of higher quality. It increases the take-up of evidence. End users need reliable, relevant and trustworthy evidence to make informed decisions. To do this we need to create an environment where people can access, understand and apply evidence, and where research is carried out with the involvement of end users to ensure evidence is accessible to people making those health decisions. 
Cochrane has a long and unique history of collaboration across the world, including ensuring the people who benefit from our work (consumers, patients, carers and the wider public) are involved as co-producers of our evidence. 

Cochrane supports involvement and engagement in health research because it promotes transparency, accountability and trust in the way that research is produced; results in evidence that addresses consumers' needs, reduces waste in research, improves the translation of research into policy and practice, and ultimately leads to improved benefits for health systems and outcomes for patients; is consistent with current health research approaches and is expected or mandated by our funders, partners and consumers.
 
How we created this framework
This framework is the result of significant work to engage and involve stakeholders in consumer engagement and involvement, beginning in 2019. Key elements of this work included establishing a task group made up from stakeholders in engagement to oversee, advise, and support a process of developing a vision and plan for the involvement of healthcare consumers in Cochrane; significant consultation with interested parties, including a survey of consumers, a survey of Cochrane groups, a prioritisation exercise undertaken by members of the task group, and a discussion paper prepared for the postponed governance meeting at Manchester in 2020. This framework has subsequently drawn on all of the above, taking into account the recent Strategy for Change, and consultation with members of the Cochrane Central Executive Team and the Consumer Executive.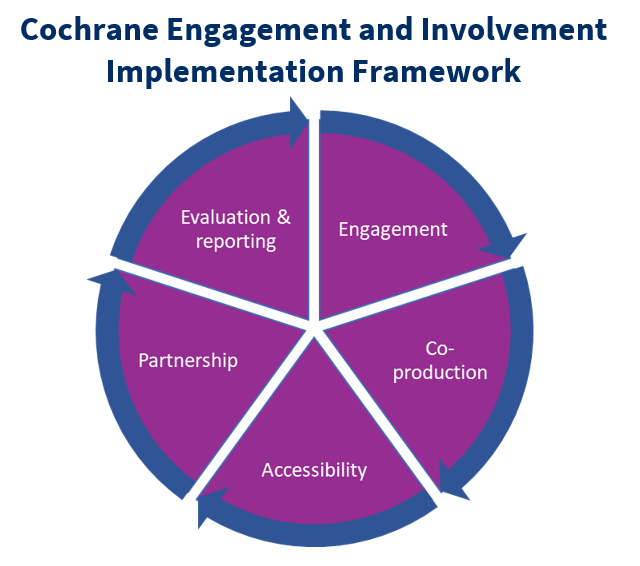 At its heart the framework has five elements:
1.    Engagement - a programme of communication about health research, evidence dissemination, recruitment and learning  that helps more people use evidence in health decision making 
2.    Co-production - increase the number of reviews prioritised and that involve consumers in the evidence production process to ensure that reviews are aligned with users' needs and support consumer involvement in the governance of Cochrane
3.    Accessibility - a programme to improve health literacy amongst healthcare consumers that covers understanding evidence, health research, critical appraisal, and shared decision making, whilst working to make Cochrane evidence more accessible
4.    Partnership - establish a range of international strategic partnerships, including patient groups, to develop engagement, co-production, advocacy and health literacy activities leading to the dissemination of Cochrane evidence and improved engagement and involvement
5.    Evaluation and reporting - establish an observatory in order to ensure Cochrane's work in engagement and involvement is evidence based, and to monitor and evaluate the impact of its work
 
What this means for Cochrane and stakeholders in engagement and involvement
We can now begin to implement some of the measures listed in the framework. Two immediate ones will be signing a shared commitment to the implementation of public involvment, called "Putting People First" and the formation of a Co-production Methods Group to make changes to the way we do involvement in Cochrane. Other things will follow, some which we can introduce within our existing resources, others that need additional funding.
Download the full Cochrane consumer engagement and involvement framework to 2027. 
Richard Morley, Cochrane Consumer Engagement Officer 18th October 2022
For more informtion email consumers@cochrane.org